Dr. John Todd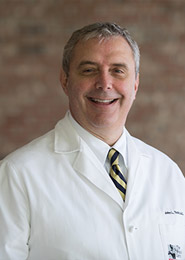 Dr. John Todd is a board-certified orthopaedic surgeon with fellowship training in both shoulder reconstruction and sports medicine. He has more than 22 years of experience treating complex issues of the body's most mobile and problematic joints.
Dr. Todd's primary clinical focus is the care and treatment of the shoulder joint. He has dedicated his career to helping patients with both chronic degenerative problems and injuries of the shoulder. His many years of experience and expertise as a shoulder specialist enable his patients to achieve a successful treatment outcome.
Dr. Todd and his team at The Shoulder Center at Baldwin Bone and Joint provide exceptional care to patients of all ages with all types of shoulder problems. Their primary goal is to return each patient to an active lifestyle as quickly as possible. Dr. Todd is well-versed in all surgical procedures of the shoulder joint and has performed both minimally-invasive reconstruction and joint replacement on hundreds of patients.
The Shoulder Center, located in Daphne, AL, as part of Baldwin Bone and Joint, PC, is the latest specialty offered by the orthopaedic practice. Baldwin Bone and Joint, established in 1995, is led by fellowship-trained orthopaedic surgeons providing specialized care for patients of all ages.
The most common surgeries Dr. Todd performs include:
Shoulder injuries require the skill of a trained orthopaedic surgeon for proper repair and healing. These injuries are frequently caused by athletic activities or a profession that involves excessive, repetitive overhead motion. Dr. Todd is skilled in the treatment of tears, arthritis, sports injuries, and work injuries to the shoulder.
Review the patient education library to find out more about shoulder pain and treatment. For focused and advanced shoulder care, please call (251) 625-2663 or request an online appointment today.

Download Dr. Todd's CV
Dr. John Todd
1505 Daphne Ave.
Daphne AL 36526
Tel : (251) 625-2663
4223 Orange Beach Blvd.
Orange Beach AL 36561
Tel : (251) 981-2663