Testimonial #1 – Dr. John Todd – Shoulder Dislocation Surgery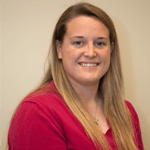 Brittany Fowler, 23, from Jacksonville, Fla., injured her shoulder during her senior year of college playing softball for the University of South Alabama.
"I dove into third base and my shoulder came out of the socket," she said. "I sat out for one game." By the end of the season in 2013, she could barely lift her arm. "It was super painful. I ended up needing surgery."
Brittany was referred to Dr. John Todd after an MRI revealed extensive damage. "He told me everything in a way I would understand it. He explained it perfectly and drew diagrams for me so I knew everything he was talking about. He was very helpful."
"We scheduled surgery and he met with my mom beforehand and talked to her, too. He's just an over-all great doctor. I had several appointments with him after the surgery. He also would come in and check on me during my physical therapy sessions. I was really glad I had him."
"After the surgery, his nurses told me everything to do to keep my shoulder out of pain. They called and checked in on me several times. I was really prepared, which was nice because sometimes people don't tell you everything."
Brittney graduated from USA and is headed to nursing school. She's back to giving softball lessons and coaching a traveling softball team in Daphne for girls age 7-10.
"I have no pain," she said. "I can throw and it doesn't hurt. He told me it might not be 100 percent, but that his goal was to get me back to 99 percent. It's a lot better. I'm glad I got the surgery."
About rehab:
After surgery, Brittany's shoulder was in a sling for six weeks followed up by more than 3 months of physical therapy.
"Once he cleared me, he told me the progression I should use. Dr. Todd really helped me out a lot. I already recommended him to someone else, the sister of a teammate. He just puts everything in terms you understand."